Rules
1.
You are free to choose from any installment of the Suikoden series you want.
2.
You can only choose one 'thing' from each category. (character/rune/pairing/whatever you can think of)
Be so kind and don't choose like "Luc, Luc/Sasarai & True Wind", so that other people who like Luc will be able to have at least a piece of him after you claimed him for character ;)
3.
If the character/rune/pairing/... is taken, you can't choose them, sorry.
4.
Grab the codes and post them (modified) in your userfinfo or wherever you want :)
5.
I'll add you as soon as I can :D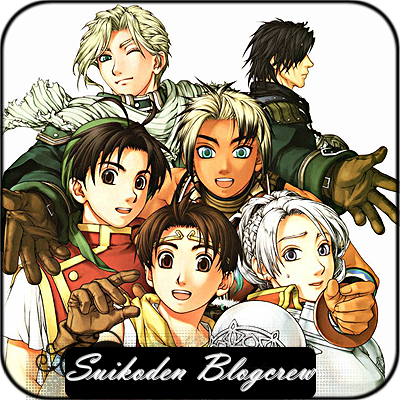 [ ★ NAME HERE @ Genso Suikoden Blogcrew]



[ ◊ RUNE HERE @ Genso Suikoden Blogcrew]



[ ♥ PAIRING HERE @ Genso Suikoden Blogcrew]



[ ♣ WHATEVER HERE @ Genso Suikoden Blogcrew]



[ ♠ WHATEVER HERE @ Genso Suikoden Blogcrew]






Suikoden
[ ★ Flik @ Genso Suikoden Blogcrew]

[ ★ Gremio @ Genso Suikoden Blogcrew]

[ ★ Luc @ Genso Suikoden Blogcrew]

[ ★ Ted @ Genso Suikoden Blogcrew]

[ ★ Tir McDohl @ Genso Suikoden Blogcrew]

[ ★ Viki @ Genso Suikoden Blogcrew]

Suikoden II
[ ★ Camus @ Genso Suikoden Blogcrew]

[ ★ Jowy Atreides @ Genso Suikoden Blogcrew]

[ ★ Riou @ Genso Suikoden Blogcrew]

[ ★ Shu @ Genso Suikoden Blogcrew]

[ ★ Sierra @ Genso Suikoden Blogcrew]


Suikoden III
[ ★ Caesar Silverberg @ Genso Suikoden Blogcrew]

[ ★ Nash Latkje @ Genso Suikoden Blogcrew]

[ ★ Percival @ Genso Suikoden Blogcrew]

[ ★ Sasarai @ Genso Suikoden Blogcrew]

[ ★ Thomas @ Genso Suikoden Blogcrew]

[ ★ Yuber @ Genso Suikoden Blogcrew]

[ ★ Yun @ Genso Suikoden Blogcrew]

Suikoden IV
[ ★ Flare @ Genso Suikoden Blogcrew]

[ ★ Kika @ Genso Suikoden Blogcrew]

[ ★ Lazlo @ Genso Suikoden Blogcrew]

[ ★ Snowe @ Genso Suikoden Blogcrew]

Suikoden V
[ ★ Sagiri @ Genso Suikoden Blogcrew]

True Runes
[ ◊ Blue Moon Rune @ Genso Suikoden Blogcrew]

[ ◊ Night Rune @ Genso Suikoden Blogcrew]

[ ◊ Sun Rune @ Genso Suikoden Blogcrew]

[ ◊ Soul Eater @ Genso Suikoden Blogcrew]

[ ◊ True Lightning @ Genso Suikoden Blogcrew]

[ ◊ Rune of Beginnings @ Genso Suikoden Blogcrew]

[ ◊ Rune of Punishment @ Genso Suikoden Blogcrew]

Stars
[ ♠ Tenki (Wu Yung) - Star of Wisdom @ Genso Suikoden Blogcrew]

[ ♠ Tenkan @ Genso Suikoden Blogcrew]

[ ♠ Chitastu @ Genso Suikoden Blogcrew]

[ ♠ Tenei @ Genso Suikoden Blogcrew]

Pairings
[ ♥ Albert/Yuber @ Genso Suikoden Blogcrew]

[ ♥ Arshtat/Ferid @ Genso Suikoden Blogcrew]

[ ♥ Nash/Sierra @ Genso Suikoden Blogcrew]

[ ♥ Luc/Sasarai @ Genso Suikoden Blogcrew]

[ ♥ Pesmerga/Meg @ Genso Suikoden Blogcrew]

[ ♥ Tir/Gremio @ Genso Suikoden Blogcrew]

[ ♥ Viki/Luc @ Genso Suikoden Blogcrew]


TUNE:

happy
MELODY: Panic! At the Disco -